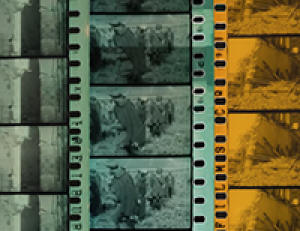 With the Greeks in the Firing Line (1913): Rehistoricizing the Balkan Wars and the Nonfiction War Film
In 1913 the Greek government commissioned nonfiction/actuality films as part of its diplomatic efforts to obtain a favorable adjudication from the Great Powers regarding the final status of Ottoman territories captured by the Greek Army during the First and Second Balkan Wars. Starting in late 1913, these films screened internationally, including in the US. The most widely released title was With the Greeks in the Firing Line which arrived in the US in early 1914. Based on a nitrate print from the film's American release the UCLA Film and Television Archive restored and digitized With the Greeks in 2013 along with a second, shorter actuality of the same provenance.
The rediscovery of With the Greeks establishes a new, earlier point of origin for the feature-length war film as a genre, which until now was linked to WWI and its key belligerents. It introduces issues that have not been taken into account in existing approaches to this genre, or to media war spectacle, and war propaganda. These issues place a small, semi-sovereign state's internal constitutional and geopolitical fractures at the genre's core.
The screening of With the Greeks in the Firing Line and its companion piece, The Triumphal March of the Greeks, will be accompanied by live commentary by Dr. Vassiliki Tsitsopoulou (Modern Greek, Indiana University).
Event Details
Thursday, May 9, 2019
7:00 pm - 9:30 pm
Petris Room, Library 3023 Tsakopoulos Collection