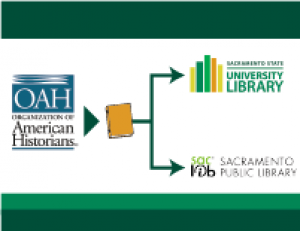 The University Library receives large donation of books from the Organization of American Historians
The University Library at California State University, Sacramento is the 2018 recipient of books from the Book Bridge Program from the Organization of American Historians (OAH), the largest professional society dedicated to the teaching and study of American history. Sacramento State is California's Capital University, providing a world-class education to a diverse student body of over 30,000. The University Library serves as the center of campus intellectual discovery, inspiring excellence in teaching, learning, and scholarly activities. Reflecting the diversity of our state, 50.4% of our undergraduates are low-income and 53% are first-generation. Designated as a Hispanic-Serving Institution (HSI) and an Asian-American Native American Pacific Islander Serving Institution (AANAPISI), the campus is the seventh most diverse university in the western U.S. and offers 58 undergraduate majors, 41 graduate degrees, and 3 doctoral degrees, which includes a highly respected joint Public History PhD program in partnership with UC Santa Barbara. The History Department serves approximately 350 undergraduates and 70 graduate students studying in all areas.
Many of the donated books are centered around research on the topics of guns, policing, and racial violence. Exhibitors provided second copies that will be shared with the Sacramento Public Library. This is a timely donation that will complement Sacramento Public Library's June 3rd event "Let's Talk About…Guns." The OAH has facilitated the donation of hundreds of books from exhibitors at the Annual Meeting of the Organization of American Historians through their Book Bridge Program since 2002.