Body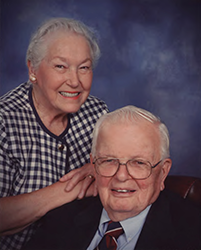 Sacramento State is honored to name the Donald and Beverly Gerth Special Collections & University Archives in recognition of Donald and Beverly Gerth's longtime service and support of the university and library. 
In the spring of 1958, Donald and Beverly Gerth made the decision to accept the offer of Associate Dean of San Francisco State College. Don and Bev spent the next 45 years in service to the CSU System. Don was president of Sacramento State from 1984 to 2003. As Don frequently stated, "We come as a team." 
"It was under Don's leadership that we took special collections and really turned it into a highly effective research center," says James Fox, director of the Gerth Special Collections & University Archives. "Don and Bev saw the impact of a special collections and university archives at a major university. There are no two people more fitting to have our special collections named for than Don and Bev."
Library Dean Amy Kautzman says, "The Gerths' gift allows us to honor the past, build on our holdings of our history, and build future collections that will serve the research needs of our students, faculty, and researchers from around the world."
"Libraries have been important to Bev and me all of our lives, and they're certainly central to the work of a university, so it's easy to support them," Gerth says.