Pyrrhus J. Ruches Collection
Pyrrhus J. Ruches Collection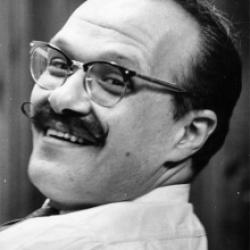 In August 2009, the Tsakopoulos Hellenic Collection received as a donation the library of the late journalist and author, Pyrrhus J. Ruches. Ruches was born in Chicago in 1930, the first of two sons of John and Andromache Ruches (Routsis or Routsopoulos). His father was from Stegopolis in Liountzi (Stegopull, Lunxhi, Albania). John Ruches came to the U.S. in 1910 after a brief stay with his father in Constantinople (Istanbul) where his father worked.
John Ruches was one of the founders of the now-defunct Epirotan Society St. Nicholas of Chicago, the Epirotan Guard (Phrouros tēs Ēpeirou, a precursor to the Pyrrhus Benevolent Society in New York), and of the Pyrrhus Society itself. He was active in the Boston Panepirotic Union just after World War I and played a minor role in the founding of the Panepeirotic Federation. He passed away in December 1989 at the age of 95.
After high school, Pyrrhus served in the U.S. Marine Corps from 1951-1953. From 1954 through the rest of his working life he worked in journalism as a reporter, copy editor, and in other editorial capacities initially in Minnesota, Texas, Virginia, and then, for most of his career, New York. He is the author of two books, Albania's Captives (1965) and Albanian Historical Folksongs, 1716-1943: A Survey of Oral Epic Poetry from Southern Albania, with Original Texts (1967), both published by Argonaut. Over the years he also published freelance articles in the Greek-American and Greek periodical press related to this interest in the Question of Northern Epirus and issues of the Greek minority in southern Albania, no doubt influenced by his father's own roots in the area.
Ruches was an avid reader and amassed a large library reflecting his broad interests in the fields of history, ethnography, folklore, cultural anthropology, and religion ranging from Southern Europe to the Far East. Among the roughly 1,800 items added to the Collection are books, pamphlets, journals, maps, and audio-visual materials (vinyl records, reel-to-reel recordings, audio cassettes, audio CDs, VHS tapes, etc.) in English, Greek, French, Albanian, and other languages. The bulk of this material deals with Greece, with particular emphasis on Epirus and Northern Epirus (southern Albania), the Balkans, and Turkey.
When Ruches passed away in 2008, he bequeathed his library to his long-time friend Dr. Constantine Hatzidimitriou with the intention of having him place it in a suitable institution where it would be available for study and research. The following year Dr. Hatzidimitriou generously donated the Ruches library, supplemented by some additional audio-visual materials donated by Pyrrhus' brother Philip, to the Tsakopoulos Hellenic Collection as a further enhancement to our extensive holdings. Our thanks go out to Stavros Stavridis for his help in facilitating this acquisition.