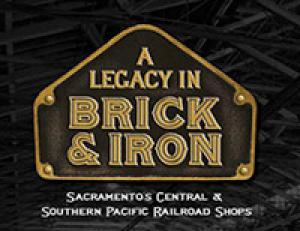 The Friends of the Sacramento State University Library begin the 14th year of the Charles Martell Author Lecture Series with local author, Mary A. Helmich. Helmich's book, A Legacy in Brick and Iron Sacramento's Central & Pacific Railroad Shops, co-written with Kevin V. Bunker, is incredibly rich in photos and vivid descriptions and brings the shops to life again. To Sacramentans who have driven by the Southern Pacific and Central Pacific Railyards for decades as they decayed from a vibrant history to a derelict relic and Superfund site, this book reveals our historic industrial heritage and offers a glimpse of possibilities for the future of the site.
The California State Railroad Museum and their Foundation with the Center for Sacramento History and the Sacramento Historical Society, helped make A Legacy in Brick and Iron possible through their generous support. The State Railroad Museum website describes it as the, "…most comprehensive book written about the historic complex of the Sacramento Central and Southern Pacific Shops buildings…the book features 500 photographs, maps, drawings and two foldout covers that capture the evolution of the complex, and the array of industries it encompassed."
Preserving and interpreting California history has been Ms. Helmich's personal and professional focus for more than 40 years. While at the California State Archives for ten years and California State Parks for twenty-six, she researched, designed and built exhibits, and authored numerous reports, interpretive plans, histories, and web content. Ms. Helmich coordinated special activities around the state to commemorate the 150th anniversary of California's War with Mexico, the gold discovery at Coloma, gold rush, and Statehood (including Capitol Park's Admission Day 2000 festival). She has served on several non-profit boards, most recently the California State Railroad Museum Foundation, and continues to consult on history-related projects and programs.
DATE: Thursday, October 5, 2023
TIME: 1:00 PM – 2:00 PM
LOCATION: Zoom, subtitles will be available
RECORDING: Watch Now