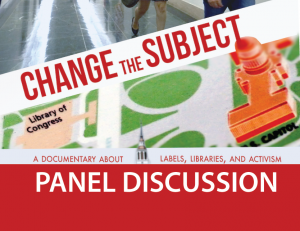 Please join us for a panel discussion on the documentary film Change the Subject, a 2019 documentary that tells the story of a group of students at Dartmouth College, whose singular effort at confronting anti-immigrant sentiment in their library catalog took them all the way from Baker-Berry Library to the halls of Congress. Change the Subject shows how an instance of campus activism entered the national spotlight, and how a cataloging term became a flashpoint in the immigration debate on Capitol Hill. Our panelists will discuss the contexts shown in the film and the possible collaborations between students and professionals to advance social change. ASL interpretation will be provided.
The panel discussion will be held on Wednesday, April 21, 2021, 4-5 p.m.
Panelist Information
Basia Ellis
Basia D. Ellis (she/her/hers) is an Assistant Professor of Child Development at California State University Sacramento. Her work examines the psychology of migration with a special focus on the experiences of undocumented immigrants. Working at the intersections of sociocultural psychological theory and critical migration scholarship, Ellis employs qualitative research methods to examine how increasingly restrictive immigration contexts shape the everyday lives of undocumented immigrants; and correspondingly, how immigrants variably understand and navigate these conditions to build meaningful lives for themselves and their families. Further, as a community engaged scholar, Ellis delivers trainings and talks to educators, counselors, community members, and others seeking to support undocumented students. She also serves as Curriculum Chair for the Dreamer Resource Center, where she helps develop and deliver curriculum to support students impacted by undocumented status.
Amy Kautzman
Amy Kautzman (she-her-hers) is the Dean and Director at the California State University, Sacramento University Library. She has held leadership positions at University of California, Berkeley and Davis, and Harvard University. She writes and presents on moral leadership and diversity, optimizing operations, and active shooter training.
As a first-generation student from North Dakota who took a roundabout way to university, her passion is in making a difference in our students' lives. Clearing the pathway to their success and ensuring equitable education brought her to the California State University system where she is having more fun than she ever expected could be possible.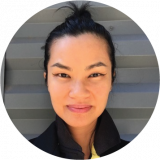 Tranh Pham
Tranh Pham (she/they) is a graduate student at the California State University, Sacramento. Tranh received their Bachelor of Science in Environmental Design at the University of California, Davis. Currently, Tranh is working towards becoming a Licensed Marriage and Family Therapist. Tranh is a Laurie McBride Scholar and enjoys serving students and the Hornet community as a Marriage Family Counselor Trainee, Resident Advisor, a Library Student Assistant, and an ASI Student Representative. Over the course of their graduate school career, Tranh has also served students at the Women's Resource Center, the PRIDE Center, the Centers for Diversity and Inclusion, and as Peer Counselor for Student Health and Counseling Services.
Erik Ramirez
Erik Ramirez (he/him/his) serves as Program Coordinator of the Dreamer Resource Center, where he oversees programming and support services for undocumented students and students with mixed-status families. He also provides leadership and support to a dedicated team of student assistants and interns. Erik emigrated from Mexico at the age of four and is a proud DACA recipient. He is passionate about immigrant rights and social justice, and he believes that education can transform lives. Erik earned his bachelor's and master's degrees in Communication Studies from Sacramento State, and he is pursuing a Doctorate in Educational Leadership and Policy.
Heidy Sarabia
Heidy Sarabia (she/her/ella) is an Associate Professor in the Department of Sociology. Research interests include: globalization processes such as global stratification, borders and borderlands, border violence, transnational social change, immigrant adaptation and incorporation in the U.S., and Latinxs in higher education.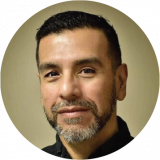 Israel Yáñez
Israel Yáñez (he/him/his) is the Metadata Management Coordinator at the California State University, Sacramento University Library. He has worked, and continues to work, on various CSU-wide library working groups and committees. He was closely involved in developing, proposing, and implementing the California State University Libraries consortium's solution to the Library of Congress subject heading Illegal aliens. Israel has also served as a metadata management consultant for the California Community College Libraries consortium.