Comprehensive folder listing of all collection donated by individuals.
Website that digitally unites collections of 15 system-wide CSU archives related to the WWII incarceration of people of Japanese descent. Sacramento State has contributed over 2,500 scans including correspondence, government documents, newsletters, and ephemera such as luggage tags, menus, block manager meeting minutes and work assignment slips.
Image
Job Title
Instruction Coordinator
Email
s.mcclellan@csus.edu
Manuscripts, personal papers, and organizational records document regional and national politics, as well as the literary, community, and cultural life in the Sacramento Region.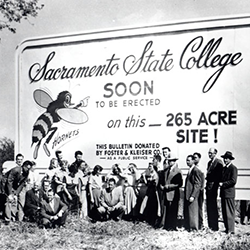 University Archives is the official repository for permanent, historical records of California State University, Sacramento. The Archives collects, preserves, and provides access to primary source material documenting CSU, Sacramento administration, faculty, students, and alumni/ae. 
Accessing University Archives
University Archives materials are available for use in the Special Collections & University Archives Reading Room. To access a list of collections held in the University Archives, please use OneSearch.
Transfer of Materials
Records from campus offices are designated for the University Archives by a combination of campus policy, California State University system policy, and federal and state laws. All university records must first go through the University's Record Management program before they are identified as belonging to the archives. and federal and state laws.  
For more information about how to access our collections, please contact us by phone 916-278-6144 or send email to lib-scua@csus.edu
Image
Job Title
Library Services Specialist II
United States, California, and local government documents in paper and digital format.