The Sacramento Movimiento Chicano and Mexican American Education Oral History Project
Background
In the late 1960s, Sacramento State University served as an important site for Chicana/o student organizers who sought to revolutionize academia from inside and make impactful changes in the community. In November 2012, a group of Chicana/o movement elders and allies came together and formed The Sacramento Movimiento Chicano and Mexican American Education Oral History Project (hereafter, "Project"). The purpose of the collective was to record Chicana/o movement activists/participants' oral histories about their involvement and contributions in the Mexican American civil rights movement in Sacramento from 1965 through 1980.
The Project was successful in collecting 98 richly detailed and textured oral histories. The interviews were, for the most part, conducted by undergraduate students who were enrolled in Professor, Dr. Lorena V. Márquez's qualitative methods courses at the University of California at Davis. The Project comes at a critical time as many of the early activists, some forty-five years later, are now in their 80s and 90s. Some have died. With their passing has gone their history of struggle and the mindset which prompted them to make the critical civil rights changes. We are grateful that we were able to reach so many of the influential activists and record their insights and knowledge.
Collection
The Sacramento State University Library was gifted the 98 video histories from the The Sacramento Movimiento Chicano and Mexican American Education Oral History Project in December 2020. This collection of interviews provides a rich and vibrant history linking cultural resilience, and qualitative research to community and social change. The 98 narratives reveal a layered understanding of the Chicana/o movement in Northern California, and more specifically Sacramento. The counter-stories the activists relayed provide a critical context to understanding and transforming past beliefs and knowledge. The narrative voices are grounded in real life experiences and are contextualized in the social situation of the time with the added reflection of their lives today.
University Library staff are reviewing the videos and placing them on the library servers so they can be viewed by scholars and students around the world. Simultaneously, full transcripts of the videos are being created and placed on library servers. We anticipate this work will be completed during the fall of 2021.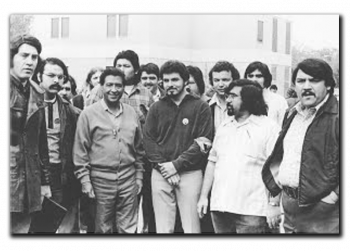 Carrillo (Juan) Oral History Video
Note: automatic captions within video may contain inaccuracies.
For the most accurate captioning, please refer to the Juan Carrillo Transcript (txt).
Romo (Tere) Oral History Video
Note: automatic captions within video may contain inaccuracies.
For the most accurate captioning, please refer to the Teresita Romo Transcript (txt).
Aguilera, Neptaly (Taty)
Aguilera, Rene
Alarcon, Francisco X.
Aleman, Arturo
Amandariz, David
Arellano, Xochitl
Aviña, Arturo
Baca, Mary
Barnes, Anita Ramos
Botello, Armando
Campbell, Duane
Campos, Luis
Carillo, Juan
Cervantes, Christina
Chacon, Willie
Cid, Olga
Cobb, Angelberta
Colmenares, Hortensia
Colmenares, Margarita
Contreras, Elizabeth
Cuellar, Rudy
De La Cruz Munoz Jr., Eliazar
De Los Reyes, Daniel
Del Campo, Lena
Delgado-Campbell, Dolores
Diaz, Jacqueline
Diaz, Ramon
Escobedo, Miguel
Frank Muñoz
Galvan, Joaquin
Gama, Maria (Luz)
Gamino, Gilbert
Garcia, Max
Gaytan, Rosie
Gonzales, Rick
Gutiérrez, Efren
Hernandez, Juan
Hernandez, Manny
Hernandez, Pedro
Hernandez, Robert
Jimenez, Maria Elena
Largaespada, Sonia
Lemus, Jaime
Lezama, Juan
Llano, Laura
Maestas, Marta
Mantecon, Arturo
Mayorga, Rodrigo
Mendoza, Max
Miranda, Gregoria
Miranda, Maria
Molina, Miguel
Mora, Carlos
Mora, Christina
Nava, Elvia
Negrete, Antonio (Al)
Ontiveros, Juanita
Orozco, Juanishi
Ortiz, Deborah
Ortiz, Nemesio
Osuna, Patricia
Padilla, Stan
Perez, António (Tony) José
Pickett, Manuel
Pitti, Joe
Porras, Andy
Portillo, Lupe
Quiñones, Sam
Quintero, Tim
Ramirez, Graciela
Rasul, David
Rasul, Melinda
Rendón, Andres
Reynoso, Jose S.
Rios-Kravitz, Rhonda
Rios, Anselmo (Sam)
Rios, Phillip
Rios, Rachael
Rios, Sammy
Rivera, Mariana
Romo, Teresita
Ruedas, Manuel
Santana, Jorge
Segovia, Carmen
Serrano, Estela
Silva, Rosemarie
Soto, Richard
Tafoya, Javier
Trevizo, Lupe
Valadez, Petra M.
Valadez, Senon M.
Valdez, Daniel (Cisco)
Valdez, Ray
Vega, Eric
Villa, Esteban
Vivas, Gabriel
Ybarra, Estanislado (Tanis)
Ybarra, Steven
Project Committee
Dr. Senon Valadez, Professor Emeritus, Anthropology, California State University, Sacramento (CSUS)
Dr. Lorena V. Márquez is an Assistant Professor at the Department of Chicana and Chicano Studies at University of California at Davis (UCD)
Dr. Rhonda Ríos Kravitz is Dean Emeritus from Sacramento City College (SCC) and CEO of ALIANZA
David Rasul is Dean Emeritus, Sacramento City College where he was also the EOP&S and Puente Coordinator
Feliciano A. S. Valadez, Specializes in multisensory-target multimedia asset, toolset and hardware design, integration, production, and recovery.